April 20th 2022
OLM is partnering up with the Pie Hole to offer you access to their mouth watering pies. A wide selection of flavors include Chunky Monkey, Lemon Meringue, Vietnamese Coffee, Chocolate Pecan, Vegan Chocolate Hazelnut, and so many more. Put your order in now to ensure that it is available in time for Mother's Day or for that spring picnic. Orders can be placed now until April 23rd. Pickup will be April 29th between noon and 6:00pm at the Pie Hole location at 7832 6th Street. Those who are unable to pickup from the store, can arrange pick up at the OLM school on April 29th between 2:45pm and 3:30pm. Pies that are not picked up during this period will be donated or discarded. If interested, please contact Christine at [email protected].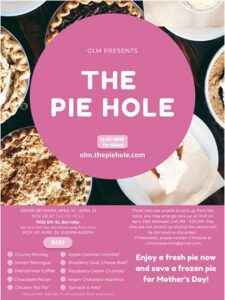 Use the following link to access the menu and the custom OLM fundraising link: https://olm.thepiehole.com/.
Enjoy a fresh pie now and save a frozen pie for Mother's Day!