Online Walkathon Campaign
We have launched Our Lady of Mercy School's 2023 Online Walkathon Campaign!
Amounts raised from this event help fund the school's various projects. These initiatives support students' learning and overall development. This year, we aim to raise funds for educational sessions on-site and excursions, for various building & maintenance initiatives and replacement of inoperative electronic devices. Your donations from last year allowed the school to complete the improved aesthetics of our classroom doors with artwork and extending the wood chips at the playground to ensure our children's safety.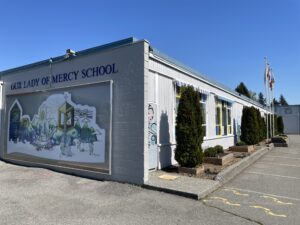 We are always grateful for your support and generosity. Let's all work together to achieve this year's fundraising goal! …Our overall goal this year is $15,000
Student's who have a minimum donation of $80 will qualify them to receive a free Walkathon T-shirt. *Limit one t-shirt per student.
The minimum donation of $80 must be met by May 12th to qualify for the free t-shirt. Donations made after May 13th will not count.
80% of total amounts raised per student will be credited towards the student's fundraising commitment fee.
HOW YOU CAN HELP
1- DONATE
Please, visit our donations page by clicking HERE
2- SHARE
Inspire more generosity and support by sharing this campaign in your social media!
3- CHECK YOUR EMAIL
Your tax receipt will be automatically sent to your inbox.